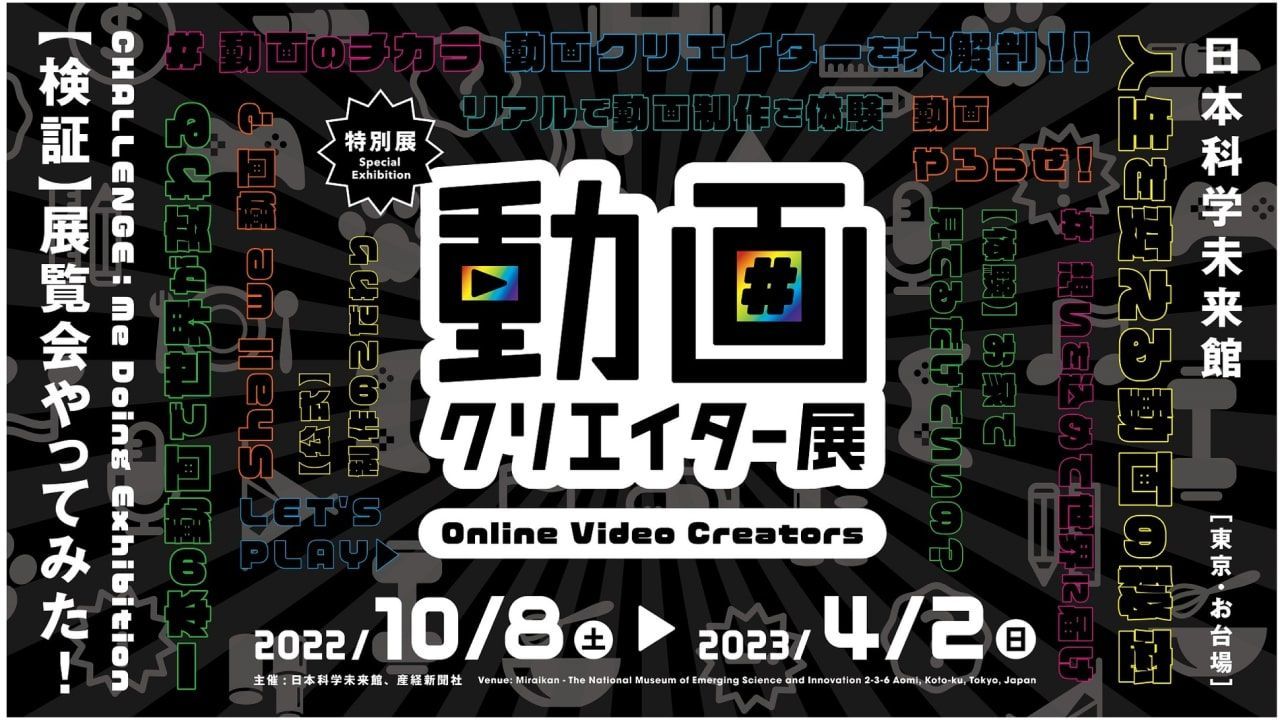 Details:
Thanks to the development of information technology, everyone is now able to share their personal opinions, interests, and experiences with the world. This exhibition introduces nine video creators active in a variety of genres, along with videos that are exclusive to this exhibition. Through these influential figures, who are creating a "new culture", visitors will discover the power of communicating "oneself" and "hints for living in this new age".
The exhibition begins with an opening video in which visitors are welcomed by the participating creators. Chapter 1 chronologically reviews the development of social media, which has changed people's lives, and on the changes in culture and people's values. Chapter 2 examines the real faces of creators that are unseen in their regular videos, considering the reasons why they chose a video platform, their own thoughts on their activities, and what they want to achieve through their videos. In Chapter 3, visitors experience video production through the seven stations of planning, shooting, and editing areas. Through each of these experiences and in the Epilogue, visitors will feel the value of video platforms, the variety of possibilities shown by video creators, and hints on how to live richer lives in the "here and now." Through this exhibit, everyone from children to adults can enjoy and experience the world of video creators.
Videos could change your world!
1. The first large-scale exhibition at a national science museum to feature video creators!
For the first time, a large-scale exhibition on the theme of "video creators" is being held at a public museum. The exhibition is themed around "video creators" who symbolize our current era and from the portraits of creators who work in a variety of genres. Visitors will be able to discover both the power to convey their "self" and "hints for living in this new era."
2. A must-see gathering of nine of the most exciting video creators!
The nine video creators appearing in this exhibition are among the best, both in terms of their channel subscribers and in terms of the power of their original content, with each having their own ingenious ideas. They have also created must-see videos, making full use of their ideas and techniques, that were shot just for this exhibition! In addition, visitors can see these creators' real faces and behind-the-scenes activities through interview videos taken at their usual shooting locations or homes.
3. Experience the world of videos through creators' original content!
Visitors can immerse themselves in the world of creators from a variety of angles at the seven different booths. Visitors will experience video planning, shooting, and editing, such as at the Hajime Syacho-authorized experience booth, "Attempting to 'Unboxing'-ish"! Visitors can also scan a QR code to download the video they shot and take it home with them! From children to adults, everyone can enjoy the world of video creators.
Opening Hours
Open: 10:00 - 17:00


Closed: Tuesday


Open on public holiday


Closed during the New Year holidays
Fee
Adults ¥2000; Age 16-18 ¥1400; Elementary School Students to Age 15 ¥800; Infants ¥500; 3 years old and Under, Persons with Disability Certificates + 1 Companion free
MuPon
¥100 off / Up to 1 people / Cannot be combined with other discounts
Venue Location
National Museum of Emerging Science and Innovation
2-3-6 Aomi, Koto-ku, Tokyo 135-0064
Access
4 minute walk from the North exit of Telecom Center Station on the Yurikamome line, 15 minute walk from Tokyo Teleport Station on the Rinkai line